This is a description of the wreck diving in Coron Bay, Palawan, Philippines through PADI Dive Center S-6121, Dive Right-Coron.
Unlike cattle-car dive boats in the Red Sea, Carribean and Florida, Dive Right-Coron does not set time, depth or unreasonable air supply limits on your diving. You keep track of your air or Nitrox pressure and decide when to end your dive. Please get back on the dive boat with 10 to 20 bar pressure left in the tank. We will not track your NDL (no-decompression limit) and tell you when to ascend. If you follow our Instructors who act as dive guides they will be following THEIR dive computers which are tracking THEIR nitrogen exposure. After all, you are a licensed diver aren't you?
If you come in with the proper training for decompression diving, Nitrox diving or Advanced Nitrox diving we will be happy to oblige your diving requirements. Please bring a buddy who can dive with you or make sure one of our Technical Instructors is your dive buddy.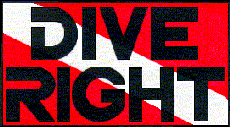 Because divers and groups of divers come from all over the world to dive on the 11 World War 2 Japanese wrecks they are our most popular dive sites. Pictures of the wrecks and diagrams of the cave sites are located in the Dive Sites section.
First. What is a wreck? The Lusong Island Gunboat is awash at low tide. It's sitting on the bottom next to a coral reef and the deepest point is only at 10 meters. The Skeleton Wreck and the East Tangat Gunboat start at five meters deep and slope down to 22 meters. They are completely open and you can swim through them. But these are boats of 18 to 25 meters length and most people think of big ships when they think of shipwrecks.
Well, we have 8 ships from 120 to 170 meters long, and sitting at depths from 24 to 43 meters on the bottom. You can swim on the outside of these ships and you get to see the soft and hard corals that adorn them and the marine life that lives on them. The wrecks are generally considered to be better than comparable coral reefs, even if you are outside the wrecks.
The majority of the dives we make are really nice at 20 to 35 meter depth staying on the outside of the wrecks. These dives are usually on air but you get more bottom time on one 80 or 100 cu ft tank of Nitrox. Dive Right-Coron recommends recreational SCUBA diving on
. We recommend a nice long safety stop on every dive and deepstops on deeper dives.
At the extreme end, we have had divers come in and do a full length technical penetration of the Irako, 500 feet through the wreck at 40 meters depth on Nitrox, with high O2 stage bottles for decompression.
Three of our big six wrecks (Olympia Maru, Japanese freighter (Taiei Maru?) and Okikawa Maru) can be dived on their decks and superstructures between 12 and 24 meters by Open Water Divers. Three more (Irako, Kogyo Maru, and Akitsushima) are deeper than 30 meters but a dive on their exterior is comfortable for an Open Water Diver with 20 dives of experience or for an Advanced Open Water Diver.
Most of the wrecks require one dive just to swim and browse along the deck and superstructure. Irako, Akitsushima and Kogyo Maru require good air consumption for an average diver to be able to swim and browse the entire length of the ship on one dive. Because they are so long and deep, these ships require two dives at 30 to 35 meters for an average diver just to browse the deck and superstructure. Most Nitrox divers can dive the entire length of these ships on one 100 cubic foot tank of Nitrox 32.
Here's the story on making swim throughs and penetrations:
Three of the wrecks (Olympia Maru, Okikawa Maru and the Japanese freighter) allow divers to swim through and never be more than five meters from being able to go straight up. The Kogyo Maru and the Akitsushima are deeper and have internal metal hazards that call for more training and experience to penetrate safely. The Irako is 30+m on the deck and penetrating it at 35 to 43m is deep, serious, thoughtful work.
Olympia Maru requires at least one additional dive to do a swim through at 24 meters to 30 meters. This dive includes passing through a section of the propeller shaft log to move from one cargo hold to another.
The Japanese freighter requires one or two more dives to see all of the ship's interior. You can swim 120 meters through this ship and always be within 5 to 10 meters of an exit.
Okikawa Maru requires at least one penetration up the propeller shaft log and through the engine and boiler room, crew quarters and compartments. A technical penetration would be required for diving in one of the many oil storage tanks which held the ship's cargo.
Akitsushima would require one technical penetration to cover the forward part of the ship (forward of the rip in the deck) to see the four engines. Another dive at greatly increased metal hazard would be required to cover the interior aft of the rip in the deck and see the crane mechanism.
Kogyo Maru would require one penetration of the second cargo hold to see the bulldozer, tractor and air compressor and another penetration dive to see the engine room and bridge.
Irako requires one penetration for the forward half and one penetration for the stern half if you just want to swim through. If you stop and look, you could do a dozen dives here without even repeating on the other wrecks.
We also offer:
The Cave in Barracuda Lake to technical divers
Cathederal Cave with its' air filled dome and side chamber
Cayangan Lake
Barracuda Lake
The Barge
The Fishing Boat
Twin Peaks Reef
Pinnacle
and Seven Sister's Islands
for a total of 28 different dives. Three a day for 9 days or two a day for 14 days, take your pick.
Our normal daily dives are made on air or on Nitrox in single 80 or 100 cubic foot tanks. We can put you into twin 100's or twin 80's on air or nitrox. If you want doubles and deco mix in stage bottles we have them.