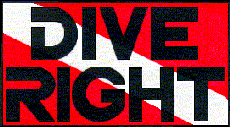 The professional instructors at Dive Right-Coron are qualified under PADI (Professional Association of Diving Instructors), SDI (Scuba Diving International), and TDI (Technical Diving International) to teach diver training courses:
Discover Scuba and Discover Scuba Diving for non-swimming beginners:
The NEW 2-Day PADI Scuba Diver course which gets you an internationally recognized diving license good for diving down to 12 meters when your dive buddy is a PADI Divemaster or Instructor:
The PADI Open Water Diver course which gets you a diving license good to dive with any other licensed diver:
PADI Advanced Open Water Diver which is done on the wrecks of Coron Bay:
Many adventurous PADI specialty courses like Wreck Diver, Nitrox Diver, Underwater Photography and Underwater Naturalist. PADI Deep Diver, PADI
Diver and PADI Wreck Diver Specialty Courses are taught on the Japanese WWII wrecks in Coron Bay, Palawan. You can take the nitrox diver course first and then do the other courses on nitrox for increased bottom time on the wrecks.
PADI Rescue Diver:
The professional levels of PADI Dive Master and PADI Assistant Instructor: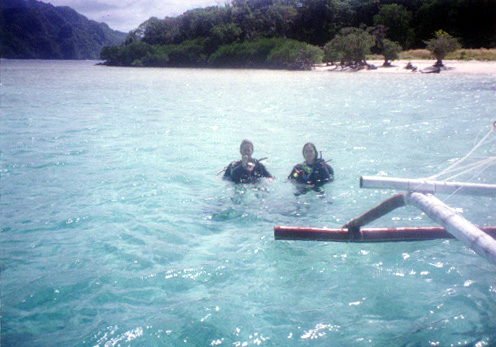 CYC Island Diver Training Site
PADI is the world's largest diver training agency and all PADI Diving Courses are recognized and accredited worldwide.
All PADI courses are taught by experienced instructors using all required PADI training materials. Instruction is available in English and Japanese and training materials, quizzes and tests are available in English, German, Dutch, Chinese, Japanese, Korean, French, Italian, Swedish, Norwegian, and Hebrew.
The price of all PADI diver training courses at Dive Right - Coron includes the use of all PADI training materials and all diving equipment and dives.
Discover SCUBA: Use all of the SCUBA diving equipment and experience the underwater world side-by-side with a PADI diving instructor as your dive buddy. See coral reefs and marine life first hand. No diving skills or swimming ability required. Discover Scuba can continue into any of the other programs by learning basic SCUBA skills and making a dive with your instructor.
Discover SCUBA Diving: Receive more information about diving and diving skills, practice those skills in shallow water and then buddy up with a PADI Instructor for a Scuba Dive over a vibrant coral reef. This credits toward the PADI Scuba Diver or PADI Open water Diver licenses.
PADI SCUBA Diver: A two-day course of instruction with three shallow dives to learn diving skills and two dives to see marine life. The Scuba Diver license lets you dive around the world at all PADI Dive Centers and Resorts with a PADI Divemaster or PADI Instructor as your diving buddy. With the PADI SCUBA Diver license you will have a depth restriction of 12 meters.
PADI Open Water Diver: Is a four-day course with more diving skills practice in shallow water and more diving! This license gives you the training and experience to dive down to 18 meters with any other licensed diver as your dive buddy.