Dive Right - Now
Second Quarter, 1998 - Volume 1, Issue 3 or Return to Webpage
---
Busuanga Dive Operators Discuss Formation of a Dive Operator's Association
In a series of discussions arising out of efforts to install buoys on the wrecks, dive operators on Busuanga Island agreed to the voluntary formation of a Dive Operators Association. Dive operators on Busuanga and live-aboard dive boats operating around Busuanga were invited to join the Busuanga Dive Operators Association.
Goals of the association members were to protect the marine environment, to develop guidelines for safe diving practices on the wrecks, elimination of decompression diving except for specially trained and equipped divers, and to promote Busuanga as a dive destination. The project to install and maintain mooring buoys on the Japanese wrecks in Coron Bay was adopted by the association.
It is hoped that all responsible dive operators will join and support the goals of the Busuanga Dive Operator's Association.
Dive Right - Coron Trains Local Students as PADI Open Water Divers.
Mark Bush
In Coron, Palawan six students and a teacher of the "Coron School of Fisheries" received a free PADI Open Water Diver course to acquaint them with the underwater environment and increase their environmental awareness.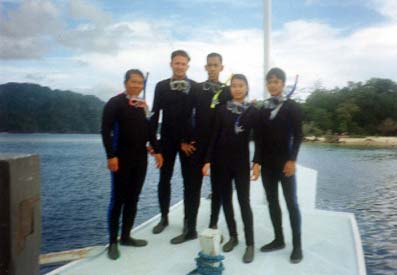 The students for this class were: Rodel B. Cataylo, Richard D. Chua, Harold A. Datoon, Jannes R. Factor, Ivy R. Mendenilla and Robert T. Patajo under the supervision of their teacher, Mr. Nelson G. Dabuit. All of the trainees were acquainted with the PADI Project Aware by PADI Instructor Eric Laurel and given lectures on environmental protection and conservation by US Peace Corps volunteer April Samson.
In water skills instruction was performed by PADI Instructors Mark Bush and Peter Gannon using the equipment and facilities of PADI Dive Center S-6121, Dive Right - Coron. Dive boats were provided by Bayside Diver's Lodge under the direction of Dennis Hunter.
Financial sponsors for this project were L&M Pe Lodge and Restaurant, Sangat Island Resort, Kokosnuss Resort, Sea Horse Club, Tartaruga Diving Safari, and Papachilan Island Resort.
We hope that these new divers will help educate the general community in responsible and environmentally sound use of the Philippine's marine resources.
Based on deaths and injuries among local "hookah diver" fisherman, sport diving was considered so dangerous that we actually had to delay the start of the class to recruit volunteers for this free PADI Open Water Diver course. On first advertisement no one wanted to take the class.
PADI - Project Aware
You can protect the underwater environment by diving carefully in fragile aquatic ecosystems, such as coral reefs.
Remember that buoyancy control is your most important skill as a diver. Without frequent diving all of your skills will become rusty. Be especially careful your first few minutes back in the water after an absence from diving.
Do a weight check and carry only the weight necessary to be neutrally buoyant during your safety stop at 5 meters and 30 bar tank pressure.
During your dive adjust your buoyancy so that if you stop all movement you can just tell that you have a tendency to sink. Anticipate the effects of ascents and descents on your buoyancy and be prepared to correct to neutral bouyancy.
"What are the white boys doing here?"
Dive Right - Coron manager Peter Gannon and long time Coron resident Dennis Hunter were invited to join the local Philippine Coast Guard Auxiliary. As active members of the local community, and having a keen interest in protecting the local marine environment, they accepted the invitation.
Their first official function was attended by senior Coast Guard officers and the governor. You can imagine the governor's surprise going down a line of Philipino officers and coming face to face with a blond haired blue eyed Australian and a large American in the PCG's dress white uniform.
The surprised words out of his mouth were understood and interpreted by Dennis and formed the title for this article. When you think about it, who should be more concerned with preservation of the marine environment than those who make their living from it. Especially, those who make their living by showing the beauty and abundance of nature.
Local Coral Bleaching due to El Nino
Dive Right's divers and instructors have noted the effects of coral bleaching on Twin Peaks reef, a local shallow dive site. This bleaching is due to the warmer ocean temperature caused by the El Nino phenomenon.
The coral polyps have expelled their symbiotic algae that take in sunlight and produce the food consumed by the polyp. While the pure white coral is as beautiful as an ivory statue it is quite dead. We hope the unbroken coral skeleton will provide a substrate for coral growth when the El Nino phenomenon subsides.
Remember that as a diver in the Philippines it is illegal for you to collect any living corals. It is also not good to collect their intact skeletons.