Pictures of Dive-Link beach resort on Uson Island, across from Coron town, Busuanga Island, in Palawan province, Philippines
Dive-Link is Coron's only true beach resort. Located across the bay from Coron town on Uson Island, it is a haven for anyone desiring peace and quiet for relaxing. Cooled by sea breezes and electric fans, each cabin is a comfortable vacation oasis. An excellent restaurant provides international and Pilipino delights. The Dive-Link staff will pay personal attention to your needs and comfort while in Coron.
Dive Right will pick you up from the Dive-Link pier in the morning, take you wreck diving, and bring you back to Dive-Link in the afternoon. If you have personal dive equipment we can take it to Dive Right overnight and wash it there. It will be on the Dive Right boat waiting for you again the following morning.
RATES: Inclusive of buffet breakfast and boat shuttle service to Coron town,
$74 US for a 1 bedroom fan-cooled cottage with a private bathroom .
$100 US for a 2 bedroom fan-cooled cottage with one shared bathroom.
$96 for a four bedroom fan-cooled cottage with two shared bathrooms.
. Welcome to Dive-Link. Cottages to the right side of the pier. The swimming pool, restaurant, and then more cottages are on the left side of the patio.
. The only swimming pool in Coron.
. A variety of cottage sizes and accommodation plans for individuals, couples, families and groups. These cottages are on the left side of the swimming pool.
. The cottages furthest to the left side.
. Two bedroom cottage for four persons.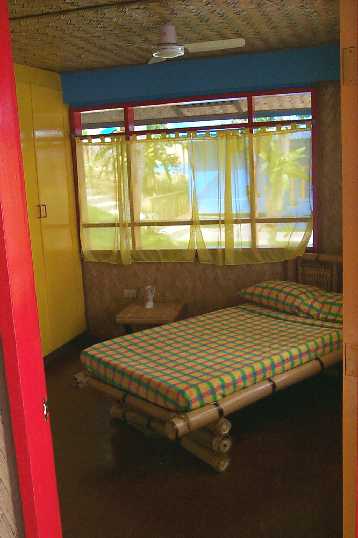 . Double bed in a two bedroom cottage.
. Simple clean bathrooms.
Dive Right - Coron * Request Information Form * Lodging in Manila * History of Coron * Diving in Coron * Diving on Nitrox * Coron's Dive Sites * PADI Diver Training * Lodging in Coron * Air Travel to Coron * Travel by Ship * Telecom in Coron * Travel Agents * Prices * Contact Dive Right * Transfer from International to Domestic Air Terminals * Links Page * Deeper Safety Stops * Money Matters * Underwater Visibility * Technical Diving * Night Life * Advanced Diver Training * Climate * Health in Coron * Deutsche * Wrecks